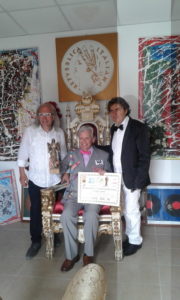 On the occasion of the "Luigi Centra Prize" event, to be held on 11 June 2017 in Stra (Venice), I will receive the special "Leone di San Marco" prize, along with three other great international artists.
I'd really like thank Master Luigi Centra for having rewarded with this choice also the songs and the traditions of our beautiful Sicily, a land he really loves.
A big hug and many thanks to Rosario Messina for everything.
You can read the full article here: http://www.siciliafelix.it/non-solo-sicilia-news/l11-giugno-a-stra-venezia-la-quinta-edizione-del-premio-internazionale-luigi-centra/